Pineapple Kielbasa
A Great Holiday Appetizer Recipe
A Wonderful Kid Recipe, Too

This pineapple kielbasa recipe is not only quick and easy, but also kids-friendly.  You can make ahead of time.  Yes, you can get this ready a day before the dinner party.  As soon as your guest steps into your door, you can start serving it.
Or while you are busy at preparing the rest of your dinner, have your little one to help you assembling the dish together for you.  This will keep the little hands busy and occupied.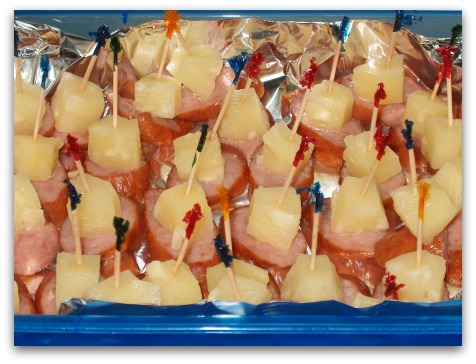 Prep Time: 5 Minutes   Cook Time: 20 Minutes (stove) OR
10 Minutes (Microwave); 10 Minutes (Assembling)   Serving: 10+
Before getting busy with this delicious, quick and easy recipe, I would like to ask you to think about 2 things.  Presentation vs Time.
This will affect your choice of how to prepare the kielbasa.  If you pick presentation, that means you want the kielbasa sausage brown in color.  You will cook it on the stove top.
If you pick time, you can simply put the kielbasa into the microwave.  The result of this method looks just like what the picture shows on this page.

Ingredients

1 Can (1pound) Pineapple Chunks (drained)
1 pound Cooked Kielbasa Sausage (sliced about ½" thick)
Frills (a.k.a. decorative toothpicks or skewers)

Stove Top
Preheat a big skillet at medium heat
May need to separate into 2-3 batches

Single layer kielbasa sausage slices on the skillet; let it brown about 3-5 minutes each side
Transfer to paper-towel lined plate to drain

Repeat step 3 and 4 until all kielbasa sausage slices are brown
Skip to "Assembling" section

OR

Microwave Oven
Line the microwave oven safe plate with a paper towel
Single layer the kielbasa slices on the plate
Cook the meat in microwave oven at high heat for about 1 minute and 20 seconds
Repeat the last 3 steps until all kielbasa sausage is cooked
Assembling this appetizer recipe

Thread a pineapple chunk and a slice of kielbasa with a frill
Transfer to a big serving plate
Repeat the last 2 steps until all ingredients are gone

TIPS
Different microwave oven has different "personality". To try how it works on kielbasa sausage, try 30 seconds first. Then try every other 15 seconds.
No kielbasa sausage?  Replace it with hot dogs or any kind of sausage.  It will still come out delicious.

Pineapple Kielbasa Pasta

Prep Time: 5 Minutes   Cook Time: 20 Minutes   Serving:4
I make this pasta very often with the pineapple kielbasa.  I bet you will love it because it is very, very tasty.  On top of that, this is definitely one of the cheap quick easy dinner recipes.  Here is how:

Ingredients
1 pound Tri-Color Rotini (any short pasta will do)
1 Can (1pound) Pineapple Chunks (drained)
1 pound Cooked Kielbasa Sausage (sliced about ½" thick)
Seasonings
1 Pot of Water
1 teaspoon
1 tablespoon Canola Oil

Bring a big pot of water to a boil
Add salt, oil and pasta
Quick stir and drain when it is al dente
While pasta is cooking, follow the "Stove Top" direction as above to prepare the kielbasa in a Dutch oven
Toss pasta, pineapple and kielbasa together in the Dutch oven and serve

Tips
If you can take the heat, get the hot kielbasa sausage.  It will be even better.

You May Also Be Interested In:

Appetizer Recipes (coming soon)
Kielbasa Recipes (coming soon)
Return from Pineapple Kielbasa Recipe page to Holiday Recipes page

Return to Easy Dinner Ideas Homepage