Almost Everything In Your Breakfast
Turns Into
Everything-In-The-Breakfast Quiche
Everything-in-the-breakfast quiche – just by looking at the name, I bet you can guess what the ingredients are.  

Have you heard of a statement, "The easiest and the most common dish is the most difficult dish to make it great."?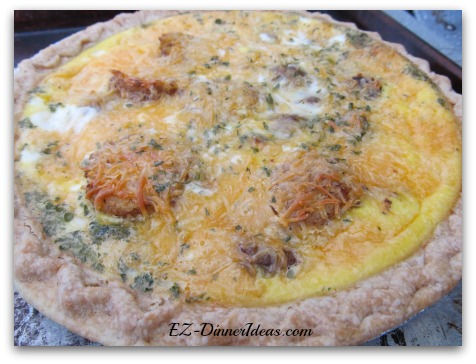 Prep Time: 5 Minutes   Cook Time: 10 Minutes (Stove Top);
45 Minutes (Oven)  Serving: 4-6

Quiche always reminds me about the traditional Chinese dish, steamed eggs.  Instead of adding milk and bake, Chinese adds water and steam.  In my opinion, quiche and Chinese steamed eggs fall under the category of what the statement says.

I always had the hard time to figure out how to bake a quiche and the crust stays crispy.  I happened to read a recipe in a magazine that I finally grabbed the trick of how to make one. 

These are the basic ingredients, i.e. 6 eggs, 2/3 cup of milk and 1 cup of cheese.  You can put anything in a quiche with no limitation, except your imaginations.

I went back home and looked for the staples in my fridge.  Then, this recipe was created. 

Most of the ingredients in this everything-in-the-breakfast quiche recipe always come in a package.  You always have leftover after making one quiche.  Therefore, it allows you to make two quiches. 
If you serve brunch for a big crowd, make 2 of them in one shot. You spend about the same time and effort to make 2 instead of one.  Including the coffee and other drinks, you can serve 8-12 people within $25.  Doesn't it sound great?

Ingredients

1 Store-bought 9-inch deep dish pie crust
6 Eggs (beaten)
1 Cup Shredded Yellow Cheddar Cheese
2/3 Cup Milk
1 Pack (8 ounces) Pre-cooked Breakfast Sausage Links (bite size)
1 ½ - 2 Cups (about 8 ounces) Store-Bought Roasted Potato Wedges (frozen; I use OreIda Olive Oil and Sea Salt Homestyle wedges)
1 teaspoon Dried Parsley Flakes
(Side note - I found that the sizes are very extreme from one brand to another.  Here is measurement guidance.  If a wedge is about an inch wide and 2-3 inches long, you may need 4-6 wedges.)

Seasonings

1 pinch of Salt
¼ teaspoon Black Pepper

Move a rack to the middle of the oven and preheat it at 325F
Heat a saucepan at medium high heat
Brown sausage in the pan about 5-8 minutes
Add potatoes and stir
Cook until the potatoes thawed and a bit warm, but not cooked, about 2-3 minutes
Add black pepper and stir to combine
Turn off the heat and remove the pan from the heat source to cool down a bit, about 5 minutes
In a separate mixing bowl, beat eggs, milk, salt and parsley together
Put the pie crust on a baking sheet for easy clean up later in case the filling spill
Transfer sausage and potatoes into the crust and spread out evenly

Top with cheese

Pour egg mixture slowly into the crust
Bake in the oven for 45 minutes until a knife inserted at the center and come out clean
If it is not cooked through, bake for another 5-10 minutes
Let it sit for 3 minutes and serve
TIPS
The sausage and potatoes are very salty.  So, go easy with the salt.

---
Serve This With: 

---

You May Also Be Interested In:

Return from Everything-in-the-breakfast Quiche Recipe page to Breakfast Recipes page

Return to Easy Dinner Ideas Homepage