Breakfast Planning

Make Ahead Breakfast Burritos
To Go Or Everybody
Makes Their Own
A good breakfast planning, like these breakfast burritos, will set you for a great start of a week.  If you have a packed schedule, having them ready and warm it up in the microwave for on-the-go breakfast or snack is a no-brainer.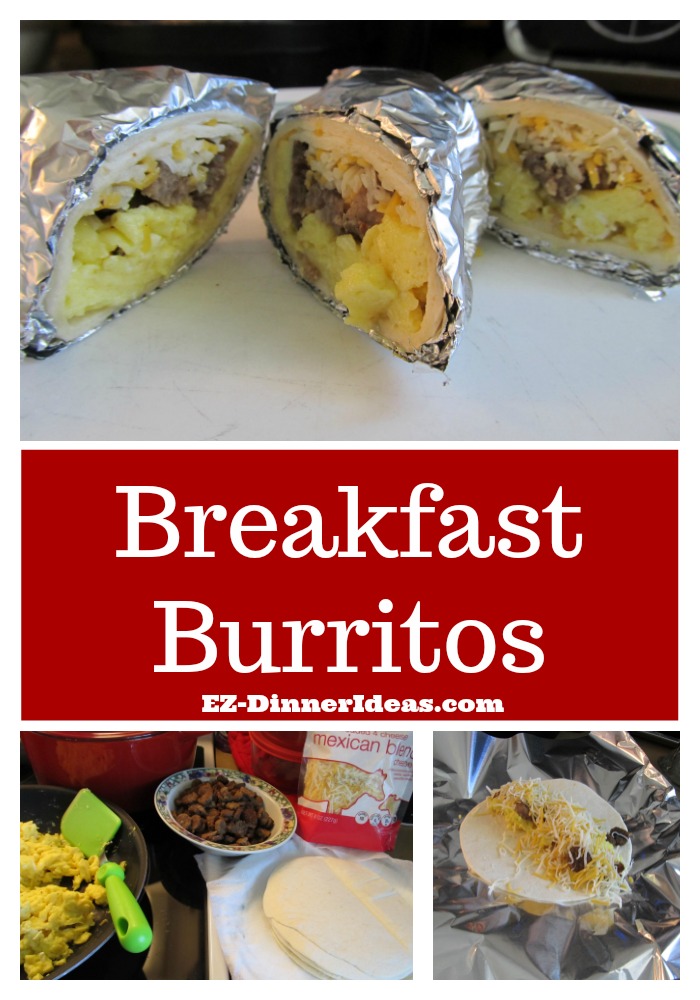 Total Time: 30 Minutes
Prep Time: 15 Minutes  
Active Cook Time: 15 Minutes  
Serving: 5-20+


When it comes to bringing something to church for coffee time, I find that something savory and warm is always welcomed.  And everything will be mopped in a few minutes.  Best of all, even though people get 2nd or more serving, they still don't have enough.  Next thing you know, they will come and ask you for the recipe.

Oh, wait....there's more.  Since you brought something so cool, they remember your food all the time.  When you do coffee time again, they definitely look forward to whatever you bring in.  Next thing you know, you become a "celebrity" in the community.

I am a very low key person.  Having too much attention makes me uneasy.  But I do love people enjoy my food.  Even conversation comes much easier because of the food.
In fact, this breakfast planning recipe was created from my pantry.  I got the last minute notice from a fellow church goer that they needed some urgent help for the coffee time at church the next day.  Instead of making another special trip to the grocery store, as usual, I looked for something that is in my fridge or pantry already.

In this recipe, I will show you how to make ahead, assemble the breakfast burritos to go or add a few more easy ingredients to make a great meal and let everybody makes their own.

Have fun cooking and enjoy the praise from everybody.

CHEF NOTES

When I made this breakfast planning recipe the first time, I brought it to church to serve during coffee time.  So, I made ahead the day before. 

Also, due to the crowd, I can't go on bold flavor, such as green chili or jalapeño pepper.  I even needed to go easy on salt, too.

So, here is the trick.  If you plan to serve it immediately, cook everything as the recipe below.

If you plan on serving it later and need to heat it up before serving, everything needs to be under cooked a little bit.  In other words, the scrambled eggs may be a little bit wet.  The sausage will not be brown, but just warm up a little bit and got some of the grease out.

Why?  When you warm up the breakfast burritos later, the cooking process will continue.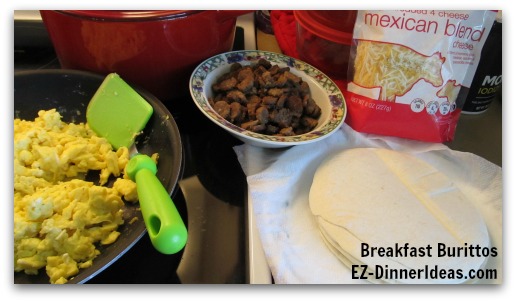 Serve the breakfast burritos like this and let everybody assembles their own. Or you can add some side dishes to spice up the recipe.

Breakfast Planning Steps with Photos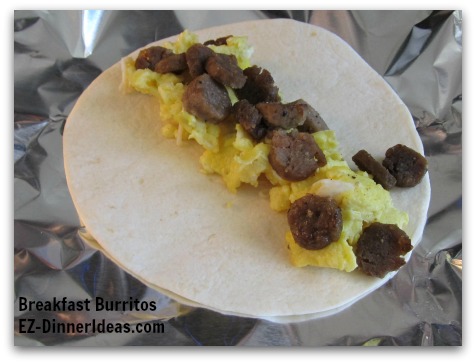 Make sure the way how you line this stuffing is facing a corner of the foil where you will start folding later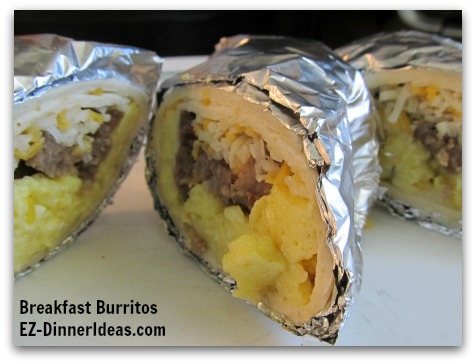 For a bigger crowd, you may even need to cut up into more portions. If your crowd is 4-6 people, you are ok.
Lay a piece of aluminum foil which is slightly bigger than the tortilla on a flat surface. (I wrapped them with foil because I planned to warm them up the next morning in the oven.  If you plan to warm them up in the microwave, switch to parchment paper instead.)
Line eggs, sausage and cheese in the middle across of the tortilla.  Make sure the way how you line this stuffing is facing a corner of the foil where you will start folding later(I put about 1 tablespoon scrambled eggs, 1 teaspoon sausage and 1 tablespoon cheese)
Roll up the tortilla as tight as you can to make burrito
Fold a corner of the foil over the burrito
Fold both sides in and roll towards the other corner of the foil
Depending on your crowd, cut burritos into halves or 3 equal parts (Since I serve about 30+ people, I cut a burrito into 3 equal portions.  For a bigger crowd, you may even need to cut up into much smaller portions.  If you only feed 4-6 people, you may need not to worry about dividing each breakfast burrito into smaller portions.)
Transfer to tray or baking sheet
Continue to assemble the burritos with the rest of the ingredients
Let the burritos completely cool down before transferring to fridge (If the entire batch of burritos is going to be consumed by the stretch of a whole week, put all foil-wrapped burritos into a zipper bag.  This will keep them fresh throughout.)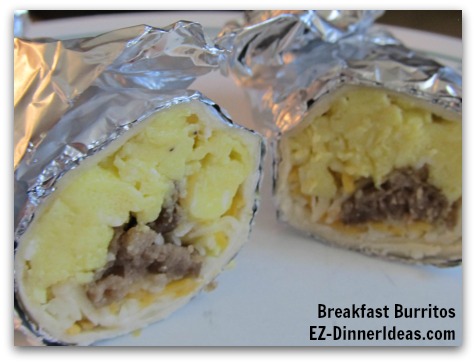 The foil serves 2 purposes here in this recipe. 1) Prevent making mess; 2) Ease to warm up the burritos.

How To Warm It Up?
Take the tray of breakfast burritos out of fridge and sit on counter for an hour in room temperature.
Preheat oven at 400F (204C).
Cover the entire tray of burritos with foil and warm up in the oven for 10 mins.
Lower temperature to 250F (121C) and warm another 10-15 mins until burritos are warm to touch and serve immediately.
Other Side Dishes For Breakfast Planning Recipe if Served Immediately
There are several sides you can serve along if you let the guests or your family to assemble the breakfast burritos themselves.  Here are some suggestions for you:

1 can green chili
1 Diced bell pepper
1 diced avocado
2 diced Roma tomatoes


Breakfast Planning Recipe and Instructions

Ingredients
10 (6" / 15cm diameter) Flour Tortillas
12 Eggs (beaten)
1 pound (454g) Pre-Cooked Sausage Links (thinly sliced or diced)
2 cups (14oz / 403g) Shredded Mexican Cheese

1/2 teaspoon Salt
1/2 teaspoon Ground Black Pepper (divided)
1/4 cup (2oz / 50g) Extra Virgin Olive Oil
Brown sausages in a big skillet at medium high heat, stirring regularly, about 3-5 minutes
Transfer to a bowl and put it aside
Using the same skillet with Extra Virgin Olive Oil at high heat
Add eggs and constantly stirring to make scrambled eggs, about 5-8 minutes and transfer to plate
Use a wet paper towel and wrap the stack of tortillas and put it on a microwave safe plate
Heat it up in the microwave for a minute to make them pliable
Serve cheese along everything and let everybody to assemble their burritos
---

Recipe Ingredients and Tools


Tortilla Warmer (Love this thing to keep my tortilla warm throughout the meal)
---
Serve This With: 

---

You May Also Be Interested In:

Home > Breakfast Recipes > Breakfast Planning | Breakfast Burritos