Slow Cooking, Easy, Traditional, Flavorful
But Not Spicy or Hot....
Chinese Traditional Brisket
This Chinese traditional brisket recipe reminds me of 2 people in my life.  One is my father and the other is my father-in-law.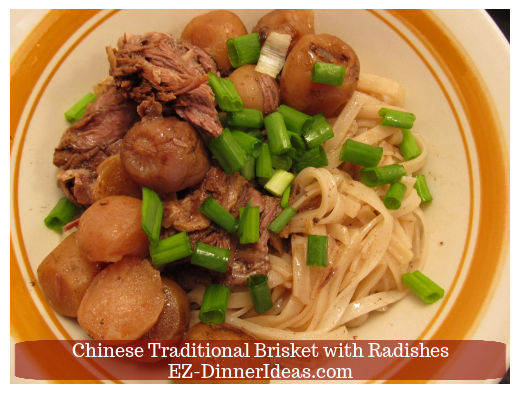 Prep Time: 10 Minutes Inactive Cook Time: 4 Hours on High
(or 8 Hours on Low)  Active Cook Time: 15-20 Minutes on Stove Top  Serving: 6-8
My father is the "King of Brisket".  He loves beef so much that he would eat any part of the beef.  Well, don't get me going…..It sounds crazy.  I know.  

But when we were young, he literally took us to almost every Hong Kong restaurant, small or big, specializing in cooking brisket.  In my memory, he always loved the one with very simple flavor that the spices do not overpower the natural taste of the brisket.  

To top it off, he always put a heaping teaspoon of Chiu Chow (a town in Mainland China where my father's family came from) chili oil.  To me, it just hits the spot.  It feels like HOME.  

Traditionally, this slow cooker Chinese traditional brisket recipe uses Daikon radish.  But it is difficult to find in any regular grocery stores.  Even if it is available in your closest Chinese store, it is very seasonal.  Therefore, the best alternative is regular radishes.  

Warning: If you had never cooked radishes before, you will smell something different in the house once the vegetables get heated up.  You may wonder if there is any problem in your septic.  But it is not.  The smell is from the radishes.  When the brisket is cooked, the smell will eventually change to the aroma that you start to fall in love with.
After cooking for 4 hours in the slow cooker, the radishes will lose their color.  But it absorbs all the yummy flavor from the beef and the broth.  I remember the first time my father-in-law tried the cooked radishes.  Man….didn't he go nuts for
this root vegetables.  

This is a great one dish recipe if you know that there are visitors coming.  It is low maintenance and can serve a big crowd with a lot of rice on the side.  Hope you will enjoy this Chinese traditional brisket recipe as much as these 2 men.
Ingredients
2.5–3 lbs (1.1-1.3kg) Brisket (a.k.a. Beef Boneless Chuck Pot Roast)
24oz (680g) Radish (trim both ends and discard)
4 Scallions (optional; chopped for garnish)
1 Bag (16oz / 454g) Thai rice noodles straight cut (I use the brand "Taste of Thai" which is available in almost every grocery stores in the United States)
Seasonings
1 teaspoon Chinese 5 Spice Powder (McCormick is good.  If you can get one from a Chinese store, it is even better, but not a must.)
1 Star Anise (optional; this is a very traditional ingredients in many Chinese dishes.  But if you don't have it, it is ok to skip it.)
8 Whole Black Pepper Corns
3 Cup (21oz / 605g) Boiling Water
¼ Cup (1.7oz / 50g) Superior Lite Soy Sauce
1 teaspoon Superior Dark Soy Sauce (Refer to Hong Kong Stir-Fry Beef Spaghetti for the details about soy sauces)
½ teaspoon Sugar
1 tablespoon Light Cooking or Canola Oil
1 teaspoon Salt
Put the brisket in the middle of the slow cooker
Surround the meat with radishes
Add Chinese 5 Spice, pepper corns, boiling water, soy sauces and sugar into the crock pot
Cook about 4 hours at high heat or 8 hours at low heat
Hold the salt before serving
About 30 minutes before serving, bring a pot of water to a boil
Put noodles in a big heat resistant bowl with salt
Pour the boiling water into the bowl with noodles and add oil
Stir the noodles for a minute and put it aside for 10 minutes
(Refer to Thai Chicken Noodles for the hits, tips and techniques of preparing the Thai rice noodles)
Take out the about 1 to 1 ½ cups (7-11oz / 202-302g) of broth from the slow cooker and transfer to a big soup pot or Dutch oven
Bring the broth to a boil
Drain noodles and immediately transfer to the boiling broth

Stir regularly until the broth is all absorbed by the noodles
Add scallion for garnish and serve immediately
Tips
White rice or spaghetti is another great alternative of the Thai rice noodles.
Pick the meat with the marble grain which is more flavorful and tender.  But beware that there is definitely more fat.
If you like it hot and spicy, put in 1-2 pieces of small dried chili pepper together with other seasonings in the slow cooker. 
You can even replace the Chinese 5 spice powder with curry powder.
Purely Chinese Traditional Brisket

If you want to skip the radishes and noodles, please feel free to do so.  That's the beauty of this slow cooker recipe. 
All you need to do is to follow step 1 to 5 and skip the radishes.  Everything stays the same. 
Of course, you can pair it with other side dishes.  Just pay attention to the total active cook time of the side dish(s) and prepare it or them before dinner.
Enjoy!

Recipe Ingredients and Tools

---
Serve This With: 

Savoy Cabbage Salad Ginger Vinaigrette
---

You May Also Be Interested In:

Return from Chinese Traditional Brisket Recipe page to Slow Cooker Recipes page

Return to Easy Dinner Ideas Homepage