Cucumber Ham Salad
A Refreshing Side Dish,
Or A TV Dinner?
This cucumber ham salad can be a refreshing meal. That's what my sister-in-law, Debbie, said.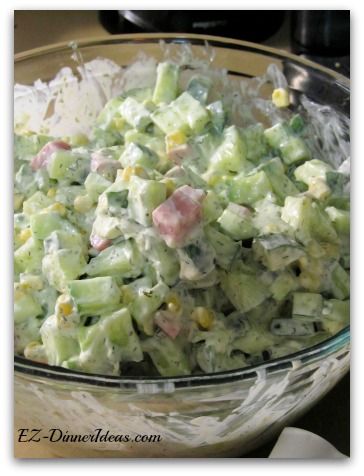 Prep Time: 10-15 Minutes   Cook Time: ZERO   Serving: 4-6
If you like to serve veggie platter with veggie dip, this is a wonderful salad for you. In fact, it can just be served as an easy dinner. If you want, you can even add 1-2
diced hard boiled eggs. It will taste even better.

Think about after a busy day at work, all you need to do is to have a bowl of salad sitting in front of the TV, having your legs up and watch a movie while having this  salad as dinner, how great is that. 
Best to do it overnight and serve it the next day. This will allow the flavors marry together and enjoy it as soon as you get back home.
Ingredients
3 Seedless cucumber (a.k.a. European cucumber; diced)
8 ounces Cooked and diced ham
1 can (14 ounces) Sweet corn kernels (drained)
1 tub (8.75 ounces) Greek dill yogurt veggie dip
1/3 - 1/2 cup Sour cream based dill veggie dip
A pinch of each Salt and Pepper
A dash of Cayenne Pepper (optional)

Combine all the ingredients and seasonings in a mixing bowl
Chill in the fridge for at least 2 hours and serve

TIPS
Can be doubled

I always loves to use
Vidalia Chop Wizard
which is a big time-saver when it comes to dice a big quantity of ingredients.

You May Also Be Interested In:

Seedless Cucumber Strawberry Salad

Return from Cucumber Ham Salad Recipe page to Side Dish Recipes page

Return to Easy Dinner Ideas Homepage