The American Classic
Comfort Food
Easy BBQ Baby Back Ribs
Easy BBQ baby back ribs recipe, the American classic.  Definitely, a great comfort food on top of the list.  I never thought that I would cook the American baby back ribs myself. We always had this dish in the restaurant.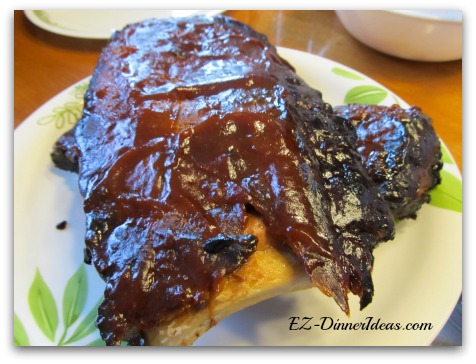 Prep Time: 10 Minutes   Active Cook Time: 15-20 Minutes   Inactive Cook Time: 9 Hours   Serving: 2-4
In my opinion, it is a lot of work and time consuming. What you pay in the restaurant is about the same as what you pay for the ingredients in the grocery store, right? Not to mention you still need to take time to cook it.

But what made me to do it myself? Mainly because after so many times we went to the same restaurants which claim that their ribs are their specialty. And it turned out the quality is different every time. Hearing the same complaint from my husband over and over for so many times, I decided to give it a try.

What I like about this recipe is that if it is on a day when you will stay at home, your oven helps you multi-tasking. If it happens to be a cold day, it is even better. It makes the whole house smells good and feels cozy.

Throughout the time when the ribs cooking in the oven, you just need to either flip or glaze the ribs. 

When you see this easy BBQ baby back ribs serving on the table falling off the bone, give yourself a pad on the shoulder and be proud.

Ingredient
3.5 lbs Baby Back Ribs
3 cups BBQ sauce (divided; any kind you want; I use Baby Ray brand Hickory and Brown Sugar)
2 heaping tbsp brown sugar
2 pinches of salt and pepper (divided)
Line a rimmed baking sheet with aluminum foil for easy clean up later (I personally line 2 layers of foil in case it breaks and leak during the cooking process)
Sprinkle salt and pepper on both sides of the meat and rub it well
Rub about 1 cup of BBQ sauce on both sides
Cover with aluminum foil and let it marinade overnight
Preheat oven at 425F
Uncover the ribs and save the foil (you will need it later)
Cook bone side up for 30 minutes
Turn the rib over and cook another 30 minutes
Cover it with foil tightly (double layer if necessary. Every corner of the baking sheet should be sealed all the way around)

Turn the temperature of the oven to 250F and cook for 4 hours (don't open the oven to peek)
Mix 2 cups of BBQ sauce, 2 heaping tbsp brown sugar, a pinch of each salt and pepper in a medium sauce pan at low heat
(My hubby likes the sauce has some heat in it. So, I put more black pepper)
Glaze it with the BBQ sauce
Cover it with foil and cook another 2 hours at 220F
Glaze it again and cook another hour
Repeat last step one more time after an hour
Take the ribs out and rest 10 minutes and serve with salad or fries and extra BBQ sauce on the side
Easy BBQ Baby Back Ribs - Summary

I thought it would make it clearer if I write a few bullets here to divide those 9 inactive cooking hours for you:
1st hour - 425F
2nd - 5th hour - 250F, then glaze ribs
6th - 7th hour - 220 F, then glaze ribs again
8th hour - glaze
9th hour - glaze
10 minutes - rest before serving
Tips

Start cooking this easy BBQ baby back ribs around 8 or 9am in the morning, it will be ready for dinner by 6 or 7pm.  Enjoy!
You May Also Be Interested In:

Home > Pork Recipes > Easy BBQ Baby Back Ribs