Salsa Breakfast Casserole
Not A Typical Breakfast Recipe
Stronger Flavors and Personalities
This salsa breakfast casserole recipe taught me a great, big life lesson. "Never admit failure until you accept it as such." (By Napoleon Hill) I know, I know....I sound too
serious.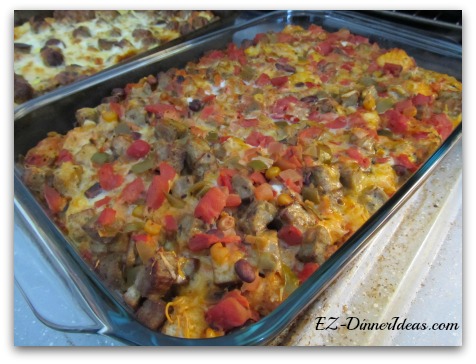 Prep Time: 15 Minutes   Cook Time: 5 Minutes (Stove Top)
Inactive Cook Time: 45-50 Minutes  Serving: 8-10
I nail most of my recipes in the first or second attempt. It is very rare to take more than 4 or 5 trials. Well, this casserole recipe is one of those rare ones.
How did I know? Just looking back to all the pics I took that I thought every time, "I think I got it this time", it has been a stretch of 3 years to get this recipe to exactly the way it is now.

How come it took so long?  Well …for a person like me that don't throw any food into the garbage, it took forever to finish the whole batch of casserole, especially if you are not satisfied with the result. 

I got to say that the ingredients marry together so nice that the house smelled divine.  While it was in the oven, my son said, "It smell like pizza."  To complement this casserole, best is to pair it with mango slices or juice.

This salsa breakfast casserole is very similar to my other breakfast recipe, English Muffin Breakfast Casserole. If you like something less spicier and hot flavor, that may be the one you want to try.  I hope you will enjoy both.
Ingredients
2 Packs (7 ounces each) Sausage Links (cut in ½" size)
2 Bags (5 ounces each) Croutons (I mixed one bag of garlic flavor and a bag of plain together)
2 Cups Mexican Shredded Cheese
12 Eggs (beaten)
1 Jar (16 ounces) Thick and Chunky Mild Salsa
½ teaspoon of Salt
¼  teaspoon Black Pepper
1 pinch of Freshly Ground Red Pepper Flakes (optional; a little bit go a long way)
Non-stick Cooking Spray
Lightly brown sausage in a skillet with black pepper at medium high heat; about 3-5 minutes and stir regularly
Take the skillet away from the heat source and let the sausage to cool down
Coat a 13" x 9" baking pan with non-stick cooking spray (If you use 2 different flavors of croutons, toss to combine now)
Single layer these ingredients in the baking pan by following this order: croutons, sausage and cheese
In a big mixing bowl, whisk eggs, salsa, salt and red pepper together
Pour the egg mixture into the baking pan (Try your best to cover every piece of croutons with the egg mixture)
Cover the pan with plastic wrap or aluminum foil and chill in the fridge overnight (This allows the croutons to soak up the egg mixture)
Take the casserole out of the fridge and sit in room temperature for 30 minutes before baking
Bake the casserole covered with foil in the oven at 350F in the middle rack for 45-50 minutes until knife inserted into the center and come out clean


Let it rest for 5 minutes before serving
---
Serve This With: 

---

You May Also Be Interested In:

Return from Salsa Breakfast Casserole Recipe page to Breakfast Recipes page

Return to Easy Dinner Ideas Homepage