Shrimp On The Barbie
Sounds Too Fancy To Make
Wait Till You Check This Out
And Serve At Home
Shrimp on the Barbie, grilled shrimp…whatever you want to call this delicious recipe.  It does  sound very fancy.  But it doesn't mean that you can only enjoy it in a fancy and expensive restaurant.  You can even serve this yummy seafood dish at your home and cook it on your grill.
Prep Time: 20 Minutes  Cook Time: 8-10 Minutes  Serving: 4-6
Once you learn the trick, you will be amazed how affordable and easy to make this awesome and easy grill recipe.
My family L.O.V.E. shrimps.  3 pounds are actually not that much.  It just perfectly fits everything on the grill.  If you want to have surf and turf, cook the steak first (refer to my perfectly grilled steak recipe).  When the meat is resting, grill the shrimps.
Why Double Skewers
I learned my lesson in a hard way.  First time when I made shrimp on the Barbie, I threaded 6-7 shrimps with one skewer.  Everything worked out fine until I flipped the skewers over to the other side.  Well, the shrimps spin on their own.  Can you imagine standing next to a hot grill and struggling with the spinning shrimps?


So, I used double skewers next time.  Huh...it did the trick.  All the shrimps stay in place no matter how I turned the skewers.  It may take a bit longer to thread through the shrimps.  But it is so worth it.  Less headache and frustration later.
Dump Them All In

Using skewers helps when you have a big crowd and guests.  Everybody can just grab and move on to the next plate.
To make this shrimp on the Barbie crazily quick, use a grill basket.  All you need to do is to marinate and cook.
Shrimp On The Barbie Recipe

Ingredients


3 pounds Frozen 21-25 count Shrimp (thawed; it takes about 8 hours to thaw in room temperature for that amount of shrimps)
1 heaping tablespoon Coffee Rub
1/2 teaspoon Salt
1/4-1/2 teaspoon Cayenne Pepper
2 tablespoon Canola Oil
20 Long Skewers (use double skewers; each set can hold 6-7 shrimps)


Coffee Rub I used in this recipe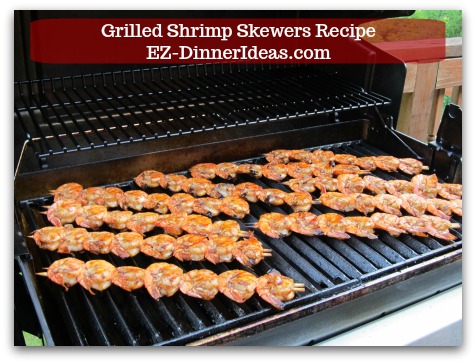 After shrimp are thoroughly thawed, drained the excess water
Whisk to combine coffee rub, salt, cayenne pepper and oil in a big mixing bowl
Add shrimp in and toss to coat
Let it marinate for at least 20 minutes
While waiting, soak the skewers in the water for 20 minutes 
Preheat grill at medium heat (if your grill has a thermometer, 400F is the perfect temperature)
Use double skewers to skew one shrimp at a time; each set holds about 6-7 shrimps 
Single layer the skewers of shrimps on the grill
Cover and cook for 5 minutes
Turn shrimps over and cook for another 3-5 minutes until shrimps are opaque and serve
---
Serve This With: 

---

You May Also Be Interested In:

My Amazon Picks

Home > Seafood Recipes > Shrimp on the Barbie