Box Cake Orange
Chocolate Chip Cookies
5 Pantry Ingredients
Easy, But Fancy Dessert
The Box Cake Orange Chocolate Chip Cookies' inspiration was actually from my other recipe, Box Cake Lemon Cookies.

Since then, I love to create different recipes with different flavored cake mixes and unsweetened drink mix.  It is convenient, especially when you get some last minute invitation to some pot luck dinner.  Or when your craving strikes, what can you do for something quick and easy?  Cake mix and drink powder mix have long shelf life which give you this convenience.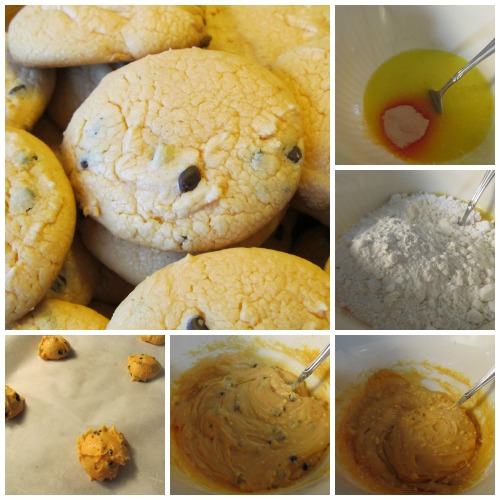 Prep Time: 5-15 Minutes   Inactive Cook Time: 10-12 Minutes 
Serving: 8-12
Tips

Chocolate morsels always come in a 12-oz bag.  Save the leftover in the freezer which will keep the chocolate nice and fresh.
You may need to separate 2-3 batches in baking.
Box Cake Orange Chocolate Chip Cookies Recipe

Ingredients

1 Box Classic White Cake Mix
2 Envelopes Unsweetened Orange Drink Mix
2 Eggs
1/3 cup Vegetable Oil
1/4 cup Chocolate Mini Morsels

Combine cake mix, oil, orange drink mix and eggs in a mixing bowl.
Use a small ice-cream scoop or about 2 tsp of cookie dough and roll to a ball shape
Transfer to a parchment paper-lined baking sheet (I use a 12" x 17" size baking sheet) leave about 1.5" - 2" space around each cookie dough
Bake at 350°F for 10-12 minutes, transfer cookies to wire rack to cool to room temperature and serve

Recipe Ingredients and Tools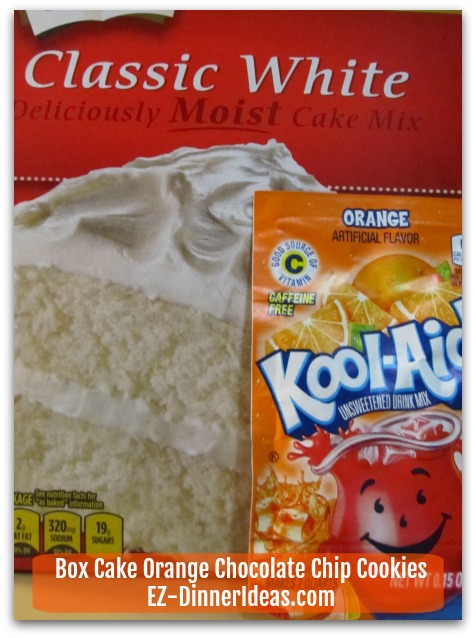 Cake mix and unsweetened drink mix are 2 main ingredients for your creativity to go wild.

You May Also Be Interested In:

Return from Box Cake Orange Chocolate Chip Cookies Recipe page to Dessert Recipes page

Return to Easy Dinner Ideas Homepage