Cookie Recipe Using Cake Mix
Cherry Chocolate Chip Cookies Are Easy to Make for Entertaining.  It is Also A Great Kid-Friendly Recipe.

This cookie recipe using cake mix is easy to make.  The cookies are beautiful and great for entertaining.  It is also a wonderful recipe to keep kids busy.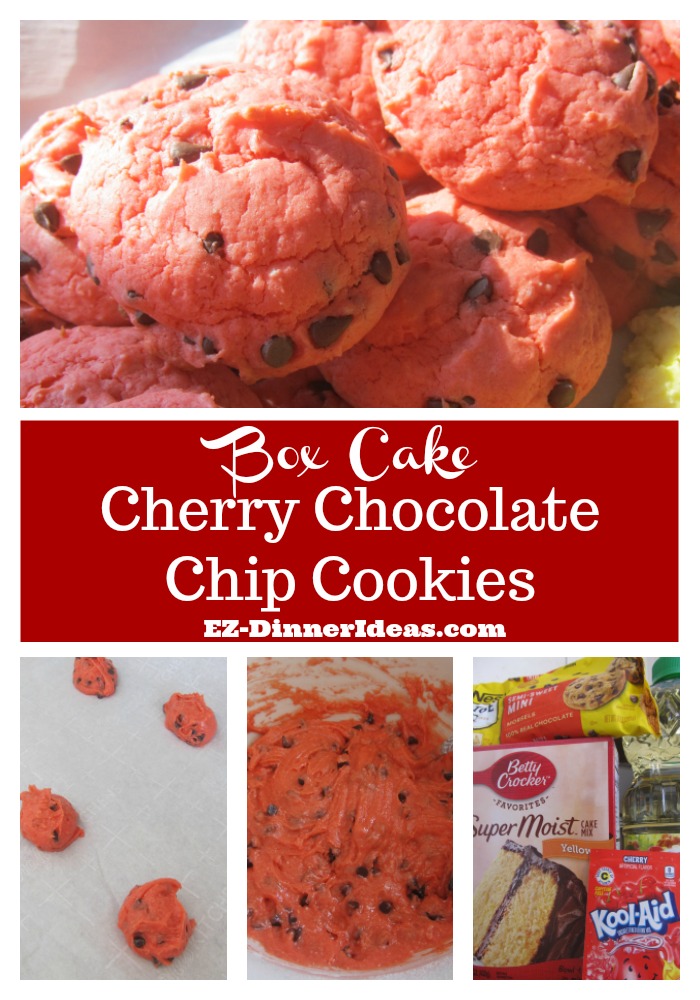 Total Time: 30-34 Minutes
Prep Time: 10 Minutes  
Inactive Cook Time: 20-24 Minutes  
Serving: 18-20 Cookies


It is not black forest.  But it has the 2 main elements in this recipe, cherry and chocolate.  I made these cheery chocolate chip cookies around Christmas 2019 and brought them to a church event.  I figured the red goes with the Christmas theme. 

Funny that after seeing the result, I realized that these cookies are great for many special occasions, such as New Year, Valentine's Day, Mother's Day, Fall and, of course, Christmas.


CHEF NOTES
Either yellow or white cake mix works for this recipe.  If you use white cake mix, the color will come out a bit lighter though.

Store cookies in a glass container for up to 2 weeks.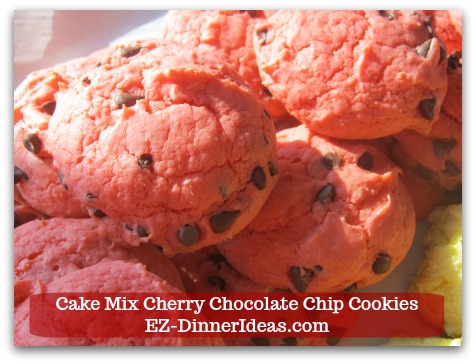 Cookie Recipe Using Cake Mix Instructions

Ingredients
1 box Yellow Cake Mix
2 Eggs
1/3 cup (2oz / 67g) Canola Oil
1 envelope Cherry Drink Mix (unsweetened)
1/2 cup (4oz / 101g) Mini Chocolate Morsels

Whisk together eggs, oil and drink mix.
Add cake mix and chocolate chips; then mix until well combined.
Use ice-cream scope to scope out dough and transfer to baking sheet.  Leave about 1.5"-2" (4-5cm) space between dough and bake at 350F (177C) for 10-12 minutes.
Repeat the last step until all cookie dough is done.
May need to separate into 2-3 batches to bake all cookies.
Let cookies cool at room temperature and enjoy.
Cookie Recipe Using Cake Mix Steps with Photos
---

Recipe Ingredients and Tools

---

You May Also Be Interested In:

---
Home > Dessert Recipes > Cookie Recipe Using Cake Mix | Cherry Chocolate Chip Cookies