One-Pan Roasted Chorizo Sausage and
Shrimp Bake
With Roasted Corn On The Cob
An Eating-With-Your-Hands Family Meal
One-pan roasted Chorizo sausage and shrimp bake with roasted corn on the cobs is a great eat-with-your-hands recipe.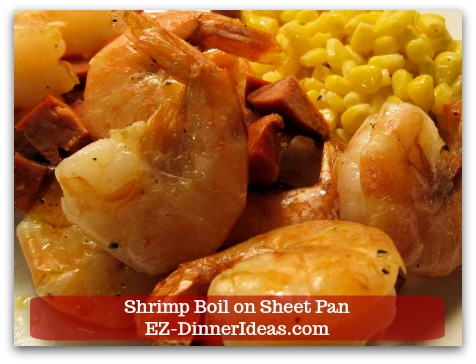 Prep Time: 5-10 Minutes   Inactive Cook Time: 30 Minutes   Serving: 4-6
I love oven more than slow cooker because temperature control is very important to make a great dish and wonderful dinner. 

The goal of this recipe is to eat with your hands.  And have the least dishes to wash. 

This recipe recommends to use corn on the cobs.  The alternative is the veggie platter.  You can buy it, make your own by asking your kids, friends and/or family to help you to do so.

If you love hot and spicy, Anduille sausage would be great in this recipe.  Most people in my family can only accept very mild heat.  So, I stick with Chorizo sausage when I cook for them.

Feel free to double the quantity of the shrimp and sausage.  If you plan to do so, divide it into 2 baking sheets.  This will allow the same cooking time for everything and not to crowd them too much.
Frozen Corn As Substitute
This recipe is perfect during spring and fall when corns are available in the store.  But you still can enjoy it during the winter.  If you can't find fresh corn, use the frozen corn that I tried it in the past.

Just bring a pot of water to a boil, add 1 teaspoon of each salt and sugar (I personally prefer to use natural cane sugar, such as Sugar in the Raw) and frozen corns into the boiling water. 
Don't thaw the corn.  Just put it into the water while they are still frozen.  This will keep it crisp tender instead of soggy.  Start the cooking process before you start preparing the shrimp and Chorizo.  It will take longer to cook through the frozen vegetables.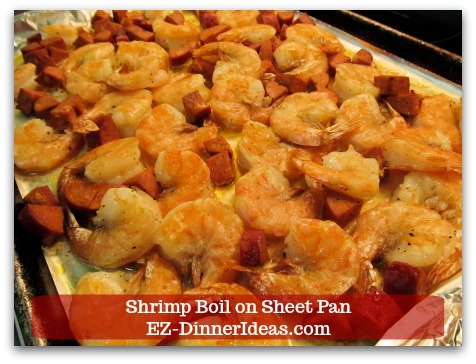 One-Pan Roasted Chorizo Sausage and Shrimp Bake Recipe and Instructions

Ingredients
8 ounces Chorizo sausage (diced)
2 pounds Raw frozen shrimps (thawed; I use the 16-20 counts.  I highly recommend to buy what is on sale in the store).  Make sure they are the same count in order to have same cooking time)
4-8 Ears of Corn on the Cob (leave the husk intact)
1 pinch of each salt and ground black pepper (divided)
6 tablespoons Extra Virgin Olive Oil (divided)

Line 2 rimmed baking sheets with aluminum foil for easy clean up later
Preheat oven at 350F
Cut the sausage in half and cut the halves into quarters lengthwise
Cut the quarters into 1/4" dice
Combine shrimps, sausage, 2 tablespoons Extra Virgin Olive Oil and a pinch of each of salt and pepper in the baking sheet (Like any sausage, Chorizo sausage is very salty.  So, go easy on the salt)
Leave the husk of the corn intact and brush the Extra Virgin Olive Oil to coat each ear and single layer the corns on another aluminum foil lined baking sheet
Make sure there is at least 1" space around each ear in order to cook thoroughly.  If it is needed, use an additional baking sheet.
Cook everything in the oven for 20-30 minutes until shrimps are opaque
---

You May Also Be Interested In:

---
Home > Seafood Recipes > One-Pan Roasted Chorizo Sausage and Shrimp Bake