DIY Rotisserie Chicken
Too Many Great Reasons Why
You Must Make This Recipe
Why DIY Rotisserie Chicken?  Buying a whole rotisserie chicken from supermarket and bringing back home gives you a lot of convenience.

However, are you one of those people that can only stand certain kind of meat?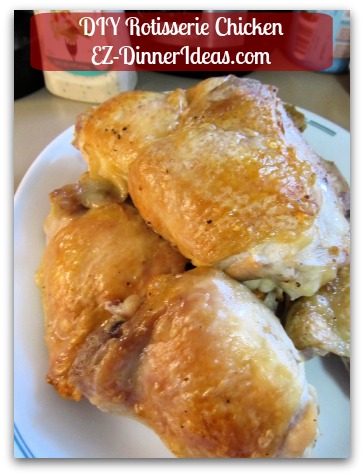 Prep Time: 5-8 Minutes   Inactive Cook Time: 90 Minutes   Serving: 6-8

In my extended family, white meat is always the kind that everybody goes after. 

What about the dark meat?  Well, I will be the only one to finish it because I love dark meat.  Sometimes, I am so happy that nobody fights this over with me.  (I do want to do the happy dance.  But I had never tried it though). Haha....yep, I get it all.  But if I am not there,  the dark meat goes to waste. 

Funny that I have several coworkers are as  particular as my family.

Believe me, there is nothing wrong with it.  I grew up in a culture where everybody goes after the dark meat.  White meat is unwelcome.  So, the same scenario I just described happens in my home country, Hong Kong, all the time as well.  As much as Chinese don't like white meat, we still eat it instead of throwing away.

If you have this little issue at home, this is the No. 1 reason why you want to make this DIY rotisserie chicken. 

When bone-in, skin-on chicken is on sale, regardless dark or white meat, I always love to buy two gigantic packs.  Each pack is about 4 to 5 pounds.  One pack goes into the freezer for later use.  Marinate the other pack and cook your DIY rotisserie chicken. 

(Saves dark meat for myself.  White meat is for my extended family, especially when it is our turn to host the big weekly family dinner)

Most of the time, buying chicken in this kind of package, the store has already taken care of separating dark meat and white meat.  They rarely pack dark and white meat in one pack. 

You only get dark meat or white meat.  It is as clear as the sky.  So, there you go, problem solved. 

Besides, the money you pay for the quantity of meat is double to triple more than a regular rotisserie chicken in a supermarket.  You can even get to control the sodium level.  So, there are tons of advantages making this DIY rotisserie chicken recipe.
Before diving into the recipe, let's find out why we must use bone-in, skin-on chicken.
Why Bone-In Skin-On Chicken?

Why bone-in, skin-on chicken?  Because it is much tastier.  There is a high possibility that you're going to cook this chicken again, by adding it into pasta, soup, stir-fry, fried rice and more.  So, keeping it moist and juicy is super important.

Of course, you can add different kind of seasonings, such as Italian, Ranch, Buffalo, BBQ, and so forth.  But I prefer to salt and pepper.

Why? It allows the meat to be more versatile in different recipes.  You can always add different flavors after mixing it with other ingredients.
Tips - More About DIY Rotisserie Chicken

This same  recipe and cooking method applies to breasts, thighs, quarters and drumsticks.

Does your oven have convection function?  Some calls "speed bake".  Convection oven is widely used in commercial units, such as restaurants.  What it does is to cut cooking time into half.  If this function exists in your oven, take the advantage of it.  It gives you another reason to make this chicken recipe.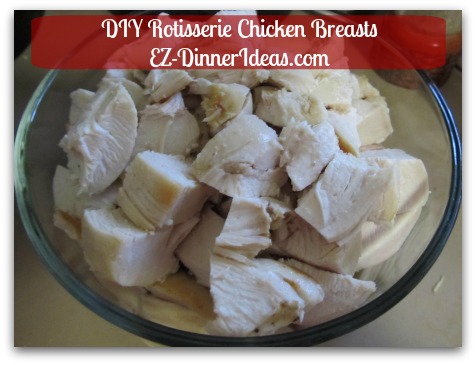 Discard both skins and bones. Cut chicken into bite sizes and store in container. Use it whenever you need it.
What To Do With The Dripping?

Dripping has a lot of flavors in it. Use it for roasting vegetables. Great for side dish or pack for lunch.
Don't waste the dripping.  As soon as the chicken is out of the oven, transfer it to a serving plate.

Use the same roasting pan, leave the foil alone, toss in 3-4 pounds frozen broccoli, cauliflower or California blend vegetables.

Put the entire pan of vegetables into the oven with same temperature.  Cook about 20 minutes.  Toss and turn vegetables over.  Cook another 10 to 20 minutes. 

There you go.  A very tasty vegetable side dish.  I always pack them for lunch for next 4 to 5 days.  Nothing goes to waste, huh?
DIY Rotisserie Chicken Recipe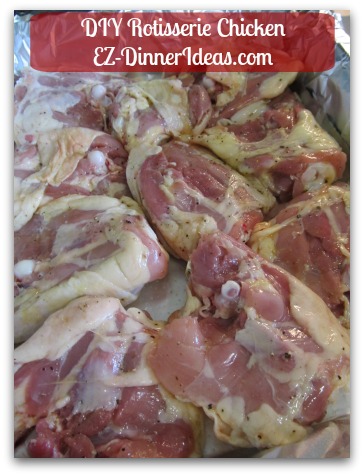 Line pan with aluminum foil and skin side down first. When chicken finally comes out of oven, you will get crispy skin chicken
Apply same methods and cooking time in bone-in, skin-on chicken thighs, quarters, drumsticks and breasts
Ingredients

4-5 pounds Bone-in, Skin-on Chicken Breasts, Thighs, Quarters or Drumsticks
1 tablespoon Salt
1/2 teaspoon Black Pepper
2 tablespoons Extra Virgin Olive Oil

In a big mixing bowl, combine salt and pepper and whisk in extra virgin olive oil (marinade should look like thick paste)
Toss in chicken
Use your hands to massage and coat marinade on chicken
Cover it with plastic wrap and chill overnight or at least 8 hours
Let chicken sit in room temperature for one hour
Preheat oven at 425F
Line a roasting pan with aluminum foil and coat it with cooking spray
(Click here to follow step-by-step instructions)

Single layer chicken on roasting pan skin side down
Cook for 50 minutes
Turn chicken over, and cook another 40 minutes
Let chicken sit in room temperature until  cool to touch
Shred chicken meat and discard both skin and bones
Store shredded meat in containers
Put containers at the back of a fridge
Meat will be good for 7 to 10 days
Add DIY chicken in salad, sandwich, pasta,  soup, stir-fry, fried rice and etc.
---

Recipe Ingredients and Tools

---

You May Also Be Interested In:

Return from DIY Rotisserie Chicken Recipe page to Chicken Recipes page

Return to Easy Dinner Ideas Homepage