Cheddar Mashed Potato Soup
Leftover Turns To
Another Comfort Food
Cheddar Mashed Potato Soup, a great comfort food made out of leftover.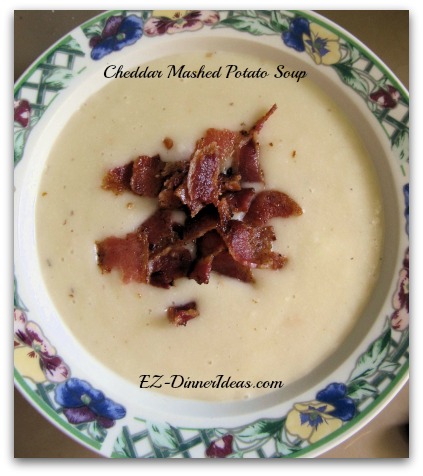 Prep Time: 5 Minutes   Cook Time: 25-30 Minutes   Serving: 4-6
I may not be raised in a western country.  But I do hear a lot of my co-workers telling me that mashed potatoes or baked potatoes is always served on a dinner table, especially for traditional families.

In fact, I have seen numerous times that there is always a lot of leftover.  I also have seen countless time that people around me or I know very closely and dearly throw the leftover away without a blink of an eye. 
I just can't bring myself to do it except I have to.  My mother's saying is always in the back of my head, "Don't throw the food away.  Think about how many people in this world suffering from hunger."

If you have children, do try your best to plant this seed in their heads and show them by examples.  They learn to appreciate more and better in their daily lives.

Anyway, this cheddar mashed potato soup not only takes care of your leftover (if you made the creamy mashed potato), but also a very filling and comforting family meal.  Can you imagine on a very cold night, launch on the couch with a fluffy blanket on in front of the TV with a bowl of hot soup in your hand?  That's the way to end a day or a week, huh?
Another Restaurant Remakes Recipe
In fact, if you look up the Panera Bread menu, this is very similar to their "Baked Potato Soup".  So, why spend so much money on buying a bowl of soup that you can make your own with the same amount of money and able to feed the whole family?
For more Restaurant Remakes Recipes, click here.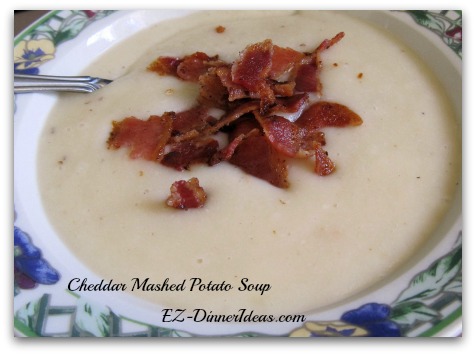 What Are The Other Potato Alternatives?
Although this cheddar mashed potato soup is made out of leftover mashed potatoes, you can use baked potato leftover, too. 
If you have neither, the store bought hash brown would be another great alternative.  Make sure it is the kind with shredded potatoes, not the patty kind.
There is also the ready-to-go mashed potatoes.  Depending on your preference of texture, mashed potato for creamy, baked potatoes or hash brown for rustic.  Of course, if you can have anything homemade would definitely better.
What's For Garnish?
Chives and scallions are optional in this recipe.  If you don't use either very often, I can understand that you don't want to buy it and leave it rotten and throw away.

But there is a great find out there.  This is the freeze-dry parsley, chives and scallions.  You can put a little bit of water to revive it.  Or just add it into the soup directly. 
It is a little bit more expensive.  But it has a very long shelf life that you will hardly waste a penny at all.  In fact, I think it is a money saver.

One More Tip
This cheddar mashed potato soup is a very thick soup.  Please feel free to either add more liquid or reduce the quantity of mashed potatoes to meet your desired consistency.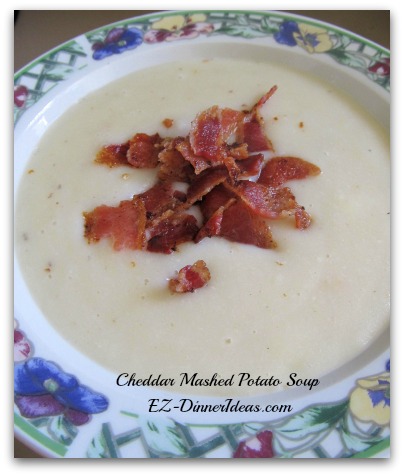 Cheddar Mashed Potato Soup Recipe

Ingredients
1 block (8 ounces) Smoked Cheddar Cheese (grated; this is usually at the special cheese aisle next to the deli section)
4 slices Bacon (cooked until crispy and crumbled)
2 tablespoons Bacon grease
2 tablespoons Butter or Extra Virgin Olive Oil
4 tablespoons Flour
4 cups Chicken Broth
3-4 Cups Creamy Mashed Potatoes leftover (You can also use some store-bought help.  There are many brands of ready-to-serve mashed potatoes either coming in a box or frozen)
Chives or Scallion (optional; for garnish only; I use the Litehouse blend)

In a soup pot, cook bacon until crispy; about 5-8 mins
While waiting for the bacon to be cooked, grate the cheddar cheese
Transfer cooked bacon to a paper towel lined plate
Leave the 2 tablespoons bacon grease in the soup pot and add 2 tablespoons butter or Extra Virgin Olive Oil (you need 4 tablespoons grease or oil total)
Add flour into the grease and whisk to combine
Let the roux cook for about a minute or so
Add broth and whisk regularly until it boils
Add cheese and whisk until it is melted (the soup still looks watery at this point)
Add mashed potatoes leftover and whisk until lumps are gone and soup starts bubbling
Adjust seasoning and transfer to soup bowl
Crumble a slide of bacon, chives and/or scallion on top for each serving and enjoy

You May Also Be Interested In:

Return from Cheddar Mashed Potato Soup Recipe page to Soup Recipes page

Return to Easy Dinner Ideas Homepage