One-Pot Sausage Gravy Cauliflower Rice
A Perfect Touch Of
Traditional Comfort Food
One-pot Sausage Gravy Cauliflower Rice is my first recipe with cauliflower rice.  Since cauliflower is not my favorite vegetable, I was a bit anxious at first.  But then, once that anxiety was over, I was totally fine.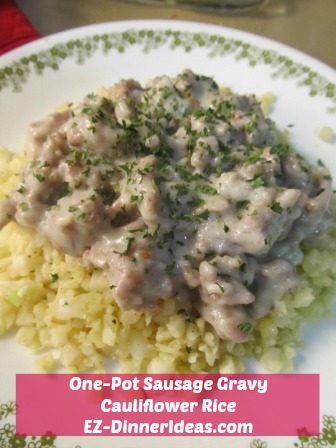 Prep Time: ZERO   Cook Time: 15-20 Minutes   Serving: 4
Unlike One-Pot Chinese Salt and Pepper Shrimp Cauliflower Rice, this one uses fresh pre-packaged Cauliflower rice.  Some called them as "Cauliflower Pearls" which I think that is the most appropriate name because of their size. (Click here to find out the differences between pre-packaged fresh and frozen cauliflower rice)

I did say that anxiety was one of the pushes to think up this recipe.  The other reason how this came together because I was thinking of comfort food. 
One of my favorite comfort food is sausage gravy.  But the majority of my family is not a big fan of it.  I myself like purely just sausage gravy without biscuits.  (I know, I know it sounds like we are a group of weird people.)  Anyway, that was how this one-pot sausage gravy cauliflower rice fell into place.  It just gives traditional comfort food a perfect touch.
One-Pot Sausage Gravy Cauliflower Rice Recipe

1 bag (16 oz) Pre-Shredded Fresh Cauliflower Pearls or Rice
1 lb Italian Sweet Sausage (bulk)
1 tbsp + 1 tsp Extra Virgin Olive Oil
1/2 tsp Garlic Salt
1 tsp Black Pepper (divided)
1/4 cup Flour
1-1 1/2 cup Milk
Dried Parsley Flakes (for garnish only)

Preheat 1 tbsp extra virgin olive oil in a medium sauce pan at high heat
Stir in cauliflower pearls
Add garlic salt and 1/2 tsp black pepper
Stir regularly and cook for 5-8 minutes until tender
Transfer to a serving plate and tent a foil on top to keep it warm
In the same pan, heat 1 tsp extra virgin olive oil and add sausage
Use spatula to break sausage into pieces, add the other 1/2 tsp black pepper and brown for about 8 minutes
Stir in flour and let it cook for about a minute to get rid of the raw flour taste
Stir in milk until thick
Transfer on top of cauliflower rice, garnish with parsley and serve immediately
---

You May Also Be Interested In:

---
Home > Pork Recipes > One-Pot Sausage Gravy Cauliflower Rice