Shrimp Corn Chowder
Seafood Lovers Heaven
I make this shrimp corn chowder during winter all the time.  If you love shrimp and seafood, you will love this, too.  There is no potato in it.  So, it is not as thick as regular clam chowder.  In other words, it gives you more room to devour and enjoy the seafood in this soup.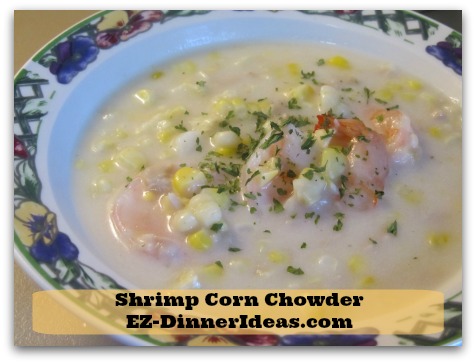 Prep Time: 20 Minutes   Cooking Time: 25-30 Minutes   Serving: 4-6


CHEF NOTES
If I have any fresh clam juice in hand after making my perfectly steamed clams, I will replace the quantity of chicken broth accordingly.  That means...if you add 1 cup of fresh clam juice, reduce 1 cup of chicken broth that this recipe called for.

Shrimp Corn Chowder Recipe and Instructions

Ingredients
2 lbs (31-40 count; thawed, shelled and devined) Frozen Shrimp
1 lb Frozen Corn Kernels
2 cans (6oz each) Chopped Clams with Juice
4 cups Chicken Broth
1 cup Milk
4 tbsp Butter
3 heaping tbsp (or about 1/4 cup) Flour
Dried Parsley Flakes (for garnish only)
Salt and Pepper to taste

Whisk to combine butter and flour in a soup pot at medium to medium high heat
Cook roux for about a minute
Whisk in milk until thick
Slowly whisk in chicken broth (1 cup at a time)
Stir in frozen corn kernels and bring it to simmer
Add shrimp until almost opaque or pink
Add clams with juice and bring soup to a boil
Turn off heat when shrimp are completely cooked, opaque or pink
Salt and pepper to taste
Garnish with dried parsley and serve immediately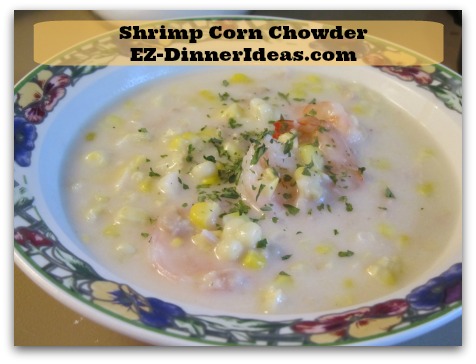 Recipe Ingredients and Tools

---
Serve This With: 

---

You May Also Be Interested In:

Home > Soup Recipes > Shrimp Corn Chowder