Spaghetti with Meat Sauce
A Soup Base for Another Great
Slow Cooker Recipe
You may have had this spaghetti with meat sauce recipe or something similar before.  But wait till you try the spaghetti sauce vegetable soup made out of the leftover…You will make it over and over again.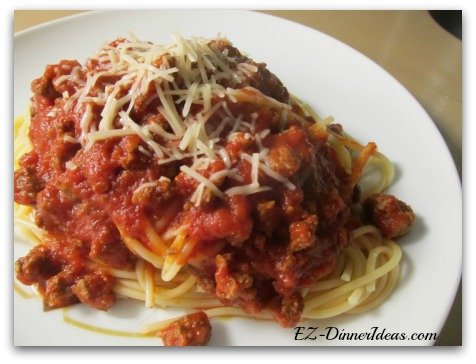 Prep Time: 5 Minutes   Cook Time: 30 Minutes (Stove Top)
3 Hours (Slow Cooker)   Serving: 4-6
My husband and his family are not big on meat balls.  Therefore, when it comes to spaghetti, they always like to serve this meat sauce.  Some of our relatives use ground deer meat and it comes out as delicious as this one.

It is not a typical slow cooker recipe that you cook in high heat for 4 hours or low heat for 6 hours.  After so many trial and errors, I realize that it will burn the sauce. 

If I serve this easy dinner recipe during the week, I always cook it the night before serving.  It is around the time after dinner and before going to bed.

So, cook the sauce as the recipe below, cook it in high heat in the slow cooker.  When the sauce bubbles around the edge in about an hour, quick stir the sauce, cover it with the lid and turn off the heat.  While this spaghetti with meat sauce is
cooling down during the night, the heat continues the cooking process.

On the night of serving, I turn on the slow cooker to high heat right after coming back home from work.  When I see the edge starts bubbling in about 45 minutes to an hour, I cook the spaghetti to get dinner ready on the table.

Before serving, take out 2 cups of meat sauce and set it aside for the next slow cooker easy dinner.

If you serve this easy slow cooker recipe during your days off or weekend, just follow the recipe below.
Ingredients

2 Cans (32 ounces each)  Tomato Sauce
1 Can (6 ounces) Tomato Paste
1 ½ pounds 90% Lean Ground Beef
1 pound Spaghetti
Seasonings

½ teaspoon Sugar
¼ teaspoon Dried Oregano
Salt and Pepper to taste
Add tomato sauce and tomato paste in a slow cooker
Preheat a big skillet at medium high heat and brown the meat
Use spatula to separate the meat into pieces; about 10-15 minutes
Transfer the meat and dripping into the slow cooker
Cook the sauce in low heat about 3 hours
Add all the seasonings and adjust to taste
Save 2 cups of spaghetti meat sauce and set aside for a delicious slow cooker spaghetti sauce vegetable soup recipe
About 30 minutes before serving, prepare spaghetti per package instructions and serve with sauce and shredded Parmesan cheese (I prefer Saputo Stella brand)

You May Also Be Interested In:

Return from Spaghetti with Meat Sauce Recipe page to Beef Recipes page

Return to Easy Dinner Ideas Homepage