Great Game Night Dinner
Super Affordable
Buffalo Chicken Drumsticks
This buffalo chicken drumsticks recipe is very versatile.  But why did I pick drumsticks?  It is for saving money.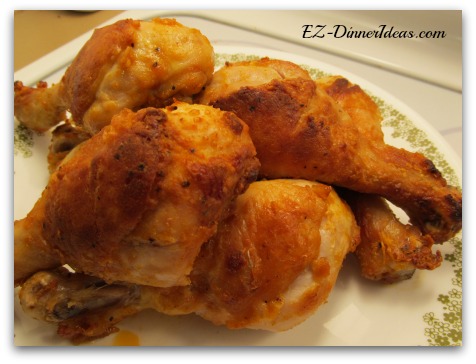 Prep Time: 10 Minutes   Cook Time: 90 Minutes   Serving: 4-6
You may have already tried my oven baked Buffalo wings.  They are good.  But it is expensive.  It doesn't fill you up.  It is more like a side dish instead of dinner. 
Think about the money you spend on the same quantity of wings versus any dark meat.  Counting the celery ribs and blue cheese dressing, this cheap easy meal can easily feed a whole family for less than 2 breakfast served in a diner.  Not bad, huh?

Still, why drumsticks?

If you are watching football game, you can hold a drumstick and enjoy both the food and the game at the same time.  Drumsticks give you this convenience.  They are easy to eat.

Having a big crowd in the house?  Yes, you can definitely double this chicken dinner recipe.  Be sure that you have 2 pans that allow you to single layer the chicken. 
If you can fit 2 pans Buffalo chicken drumsticks on the same rack, that would be perfect.  Otherwise, it may take you a little bit longer to cook. Or you may need to switch the pans from one rack to another for cooking the chicken evenly.

Feel free to switch to chicken thighs or chicken breasts.  It will be the same cooking method and oven temperature.  Just remember to have the bone-in and skin-on chicken no matter which section of chicken you are going to serve in this recipe.  This will help to keep the meat moist and not burned in the oven.

If you have leftover, it will be great to use it in the Recovery Room Spicy Buffalo Alfredo.  See, isn't this recipe versatile?
Ingredients


4.5 - 5 pounds Bone-In; Skin-On Chicken Drumsticks
6 Stalks Celery Rib (cut into 4" length)
Blue Cheese Dressing

Seasonings

½ teaspoon Salt
2 Packs (McCormick) Buffalo Wings Mix (I personally prefer to combine 1 bag of original flavor and 1 bag of BBQ flavor)
¼ teaspoon Sugar
¼ cup Extra Virgin Olive Oil
Cooking Spray




Buffalo Wing Mix I used in this recipe
In a mixing bowl, combine the Buffalo wings mix, sugar, salt and oil together.  The texture of the marinade is very similar to paste.
Toss and coat the chicken drumsticks with the marinade.  Chill overnight.
Preheat oven at 425F
Line a roasting pan crosswise twice with aluminum foil.  The foil overlapping with each other in the middle of the pan.  Then, line another piece of foil lengthwise on top and coat with cooking spray
Single layer the drumsticks skin side down (Unlike chicken breasts or chicken thighs, drumsticks have skin surrounding the whole section.  So, put the side with the least skin down on the pan.)
Bake/roast in the oven in the middle rack for 50 minutes
Turn over and bake for another 40 minutes or until juice comes out clear when poked with a fork
Rest for 10 minutes and serve along with celery ribs and blue cheese dressing
TIPS

If you have a convection oven, a function called "Speed Bake" or a function similar to that, I will encourage you to use it and cut down the cooking time into half.
Make Good Use Of The
Buffalo Chicken Drumsticks Sauce and Grease

You can use the juice and grease leftover on the pan to cook your favorite vegetables.  I usually cook frozen cut green beans or crinkle cut carrots.  No need to thaw the vegetables.   Stick to one vegetable only for the same cooking time.
After taking the Buffalo chicken drumsticks off the roasting pan, immediately toss to combine 2 pounds of vegetables with the Buffalo chicken juice and grease. 

Bake in the oven at the same temperature on the same rack.  About 10-20 minutes
Serve with short pasta on the side.
This will save you from preheating the oven again.  The vegetables could be your side dish if you likes.  Or pack it away in a container and save for next meal.
---
Serve This With: 

---

You May Also Be Interested In:

Return from Buffalo Chicken Drumsticks Recipe page to Chicken Recipes page

Return to Easy Dinner Ideas Homepage