Chinese Inspired Anchovy Scallion Pasta
A Twist On A Recipe
My Mom Made For Years
Chinese Inspired Anchovy Scallion Pasta is a recipe with anchovies and angel hair pasta smashed with traditional scallion, ginger, soy sauce and sesame oil. 
Wow...this is an Italian and Chinese smash-up, right?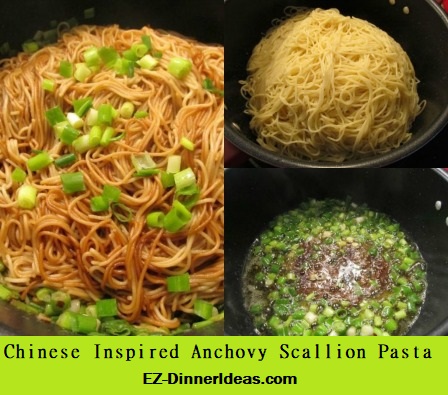 Prep Time: 5 Minutes   Cook Time: 10-15 Minutes   Serving: 4

If I tell you that this is inspired by my mom's traditional Chinese recipe, would that surprise you?
My mom used to make this dish with noodles as thin as angel hair with shrimp roe and topped it with scallion and ginger infused oil.
Funny that I was never a big fan of that dish because the kind of noodles she used.  I still ate it because mom would not cook something extra if her children didn't want to eat certain things.  If you didn't want to eat, you were on your own.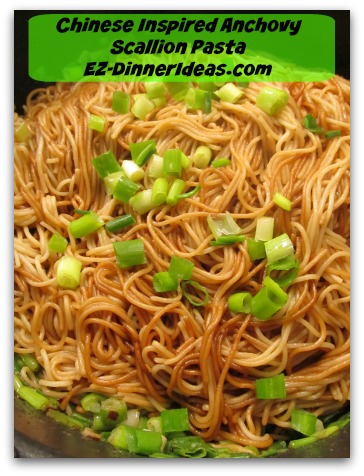 Tips
Anyway, I was thinking of her and this dish one day.  I knew that I never like the kind of noodle she used.  But the shape and look of angel hair is the closest I could find to replace the original noodles and still keep its original look.
I use anchovies because of the shrimp roe in the noodles.  It gives the dish some flavor and scent from the sea.  But do feel free to skip this ingredient.

Chinese Inspired Anchovy Scallion Pasta Recipe

Ingredients

1 lb Angel Hair
6 Scallions (chopped; save about 1-2 tbsp for garnish later)
1/2 tsp Dried Ginger Powder
4 Anchovy Fillets
1/3 cup Extra Virgin Olive Oil
1 tbsp Superior Light Soy Sauce
2 tsp Superior Dark Soy Sauce
1 tsp Sesame Oil
1 pinch Crushed Red Pepper Flakes
2 tsp Salt (divided)
1 tbsp Canola Oil
1 pot Water

Bring a pot of water to boil
Add 1 tsp Salt, 1 tbsp Canola Oil and pasta; quick stir and cook until al dente and drain
Use the same pot and heat extra virgin olive oil at medium high heat
When you see oil start to rubble, add anchovies and use spatula to cut it into smaller pieces; constantly stirring around until it is melted and infused oil
Stir in scallions, ginger, remaining salt and crushed red peppers(this ingredient can be in before/after the anchovy)
Add soy sauces and sesame oil and toss to coat pasta
Salt and pepper to taste
Garnish with the rest of scallions

Recipe Ingredients and Tools

---
Serve This With: 

---

You May Also Be Interested In:

Return from Chinese Inspired Anchovy Scallion Pasta Recipe page to Asian Recipes page

Return to Easy Dinner Ideas Homepage