Herb de Provence Brined Pork Chops
Healthy, Tasty and Juicy
Knock-You-Dead Grilled Pork Chops
Herb de Provence brined pork chops guarantee the tasty and juicy meat, but not spiking up your blood pressure.

Prep Time: 5 Minutes  Cook Time: 13-15 Minutes  Serving: 4
Using Himalayan Pink Salt

We eat a lot of pork in our house (bet you most probably knew by now). Since my husband and my son are not big in gravy, I need to find different ways to cook the meat and make sure it is juicy, tender and tasty.

This recipe was inspired by a recipe showcasing in the Diners, Drives-In and Dives.

Before this, I am not big on brining the meat.  The main reason is the salt used in the brine.  It is way too much for our bodies to handle.

People, like my husband, having so much salt in one time like this, the blood pressure will spike up.

But he started using the Himalayan pink salt several months ago.  None of us knew what it is in that salt.  It seems like it doesn't bother him at all.  I mean he definitely
starts to watch his diet.  But  it doesn't have that headache or weird feeling what you feel after too much salt consumption.  Everyone is happy.

Anyway, I highly recommend you to use the Himalayan pink salt instead of any regular table salt or sea salt.  Yes, it is 6-7 times more expensive.  But once you adapt this salt in your daily diet, you will feel the difference physically.
"Treat Your Meat Like A Sponge"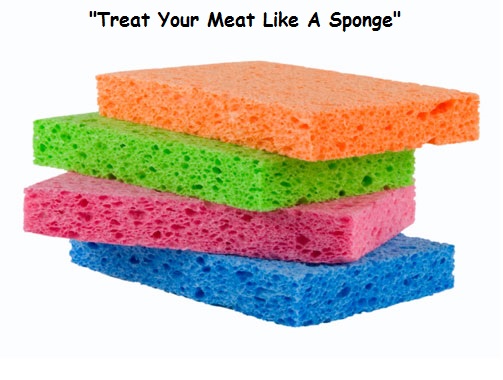 Another tip that I want to emphasize here is the massage of the meat.  "Treat your meat like a sponge", says my mother.  I may have already shared this tip with you before. 

But if you apply this technique in this brined pork chop recipe, it will make a world of difference.

All you need to do is to squeeze, release, squeeze and release.  Do this motion several time with each piece of meat.  It will absorb the flavor more and tenderize the meat.

If you can, let the meat sit in the brine for 3 days, the result is even better.  Nobody will want to have any more pork chops from any restaurant, but your house.

Anyway, always apply my mom's tip when you marinade the meat.  And enjoy this delicious pork recipe.
Herb de Provence Brined Pork Chops Recipe

Ingredients

4 thick cut Bone-In Pork Chops (1" thick)
1 heaping tablespoon Pink Himalayan Salt
15 whole Black Pepper Corns
1 pinch Crushed Red Pepper Flakes
2 teaspoon Herb de Provence
1 cup Hot Water
2 cups Cold Water



Herbes De Provence
Whisk all the seasonings in a big mixing bowl with a cup of hot water until salt dissolved
Add in 2 cups of cold water
Immerse the pork chops into the brine
Use your hand squeeze and release each piece of pork chops a few times to let it absorb the brine (make sure the brine fully cover the pork chops)
Transfer the pork chops with the brine into the fridge for at least 4 hours or overnight
Take pork chops out of the fridge to sit in room temperature for at least 30 minutes and discard brine
Preheat grill at high heat for 10 minutes
Cook pork chops at high heat for 3 minutes
Turn over to the other side and cook for another 3 minutes
Turn down to medium heat (To make a professional grill mark - lift the pork chops off a little bit from the grill and turn it 90 degrees clockwise and put it back on the grill and cook for 4 minutes)
Before turning over the pork chops, pay attention how the grill mark facing you right now.  Base on the direction of the grill mark, lift the pork chops off the grill slightlyand turn 90 degrees (if necessary) and turn over and cook for another 4 minutes
Transfer pork chops to serving plate and rest for 5 minutes before serving
You May Also Be Interested In:

Home > Pork Recipes > Herb de Provence Brined Pork Chops