No Deep-Fry
Guilt-Free, Healthy and Crispy
Oven Baked Buffalo Wings
That picture does show a plate of oven baked Buffalo wings.  No, your eyes did not lie to you.  My family L.O.V.E. wings.  My mom cooks wings all the time and has tons of great chicken wings recipes. 
She is very health conscious.  So, I had never had deep-fried wings until I moved to the States.  Also, under her influence, I try my best to stay away from deep-fried foods.  This was the reason to create this chicken wings recipe.
To make the skin crispy, the major ingredient is the extra virgin olive oil.  I tried different combinations with water, canola oil and extra virgin olive oil.  None of them worked except extra virgin olive oil.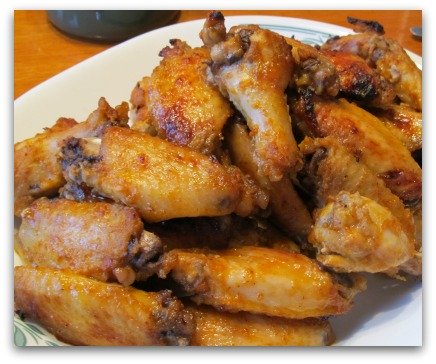 Prep Time: 10 Minutes   Cook Time: 50 Minutes   Serving: 4-6
Ingredients

2 1/2 pounds Wings (padded dry)


Seasonings

2 packs (McCormick) Buffalo Wings Mix (I personally prefer to combine 1 bag of original flavor and 1 bag of BBQ flavor)
¼ teaspoon Sugar
2 tablespoon Extra Virgin Olive Oil
Cooking Spray



Buffalo Wing Mix I used in this recipe
In a mixing bowl, combine the Buffalo wings mix, sugar and oil together.  The texture of the marinade is very similar to paste.
Toss and coat the wings with the marinade.  Chill overnight.
Preheat oven at 425F
Line a baking sheet with aluminum foil and coat with cooking spray
Single layer the wings skin side down
Bake for 30 mins
Turn over and bake for another 20 mins or until juice comes out clear when poked with a fork
Rest for 5 mins before serving
---
Serve This With: 

---

You May Also Be Interested In:

Game Night Ideas

Return from Oven Baked Buffalo Wings Recipe page to Chicken Recipes page

Return to Easy Dinner Ideas Homepage