Pepperoni Pizza Rolls
Breakfast, Snack, Or Dinner To-Go
Pepperoni pizza rolls like pepperoni pizza to-go in a super easy way with less mess.  Great for breakfast and snack to-go.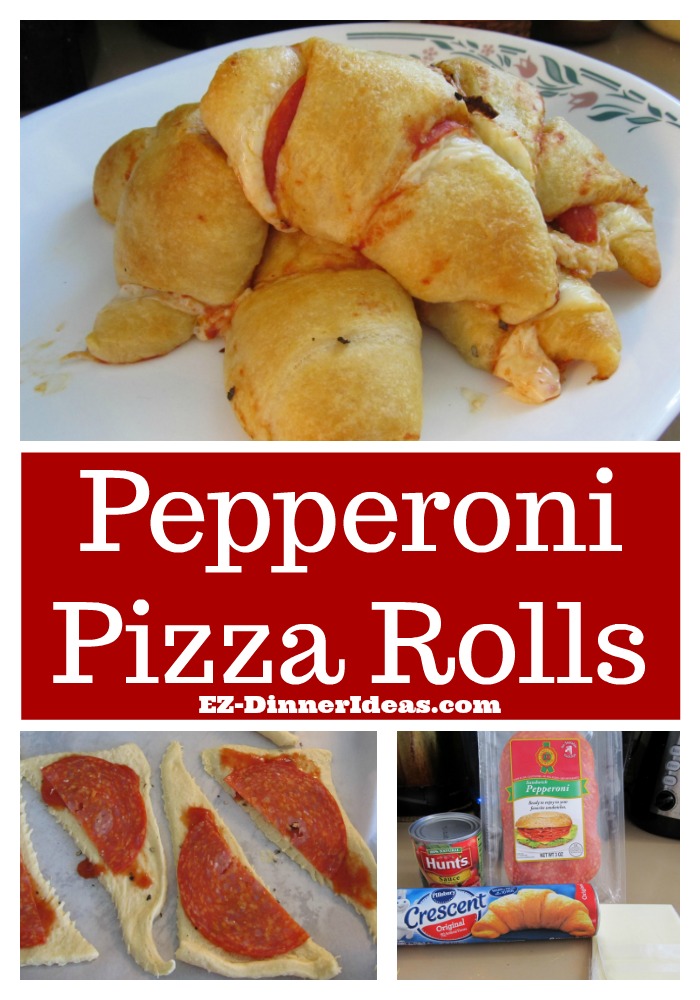 Total Time: 18-20 Minutes
Prep Time: 8-10 Minutes  
Inactive Cook Time: 10-12 Minutes  
Serving: 4-6


My hubby and little one love pepperoni pizza.  My son actually loves anything with cheese and pepperoni.  With him, we have very busy schedule with his extracurricular.  This recipe was inspired by one of those incidents.

That morning, we had a very late soccer game.  The game was going to start close to noon.  For a growing kid, this would be the time to eat.  But due to the intense activities later, you would not want him to be too full. 
So, these pepperoni pizza rolls were just perfect for this.  We, as the parents, we could also eat something before going there while we needed to stand in the cold weather watching and enjoying the game.

4 ingredients make Pepperoni Pizza Rolls

CHEF NOTES
If time is allowed, feel free to ask your little one to help you out.  This is great as breakfast-to-go and snacks as well.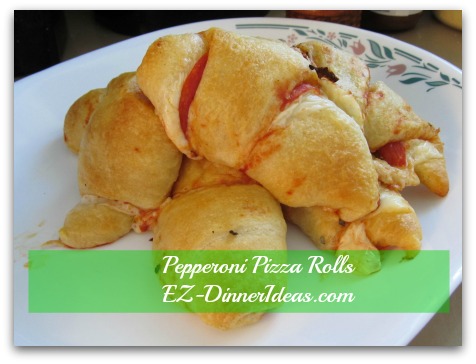 Pepperoni Pizza Rolls Recipe and Instructions

Ingredients
1 Roll Store-Bought Croissant Dough
4 slices Pre-sliced Mozzarella or White Cheese (cut into halves diagonally)
4 slices Sandwich size Pre-sliced Pepperoni (cut into halves)
1 (8 oz) Tomato/Marinara Sauce (if you have sauce leftover, transfer to air tight container and use it later)
Grated Parmesan Cheese
Dried Oregano
Ground Black Pepper

Preheat oven 375F or as instructed on package
Line up the cut up cheese, pepperoni and tomato sauce
Line a baking sheet, at least 13" x 9", with parchment paper for easy clean up later (if baking sheet is smaller than recommended, use 2 baking sheet)
Unroll the dough and separate the triangles
Spoon about 1 tsp tomato sauce on each triangle and sprinkle with grated Parmesan cheese, a pinch of Oregano and black pepper (go easy on Oregano or it will be too "perfumy".  Also, if you are going to have tomato sauce for dipping, skip this step)
Line pepperoni and sliced cheese on top of the sauce and roll up to make croissants (it may be slippery when you roll it.  Use your fingers to tug the stuffing in while you roll the dough)
Leave at least 1" space around each croissant
Bake in oven for 10-12 minutes until golden brown
(If you skip the tomato sauce on the dough and save it for dipping later, warm up the sauce with a pinch of Oregano and black pepper in a small sauce pan while the rolls are in the oven)
Let it sit in room temperature for 5 minutes before serving

Pepperoni Pizza Rolls Steps with Photos
Stack sliced cheese and pepperoni separately and cut them into halves
Unroll dough and put tomato sauce, Parmesan cheese, black pepper and oregano on top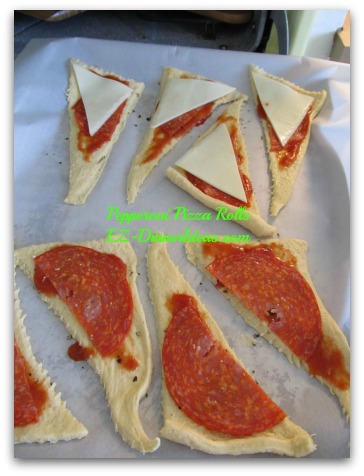 Add sliced Mozzarella or white cheese and pepperoni on top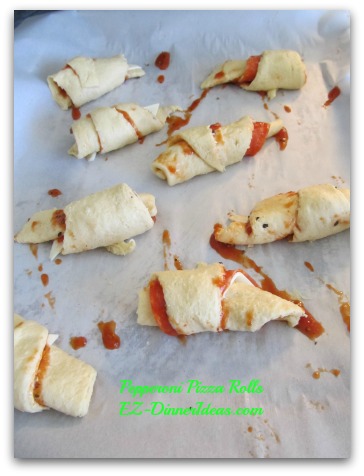 Roll up the dough with stuffing in it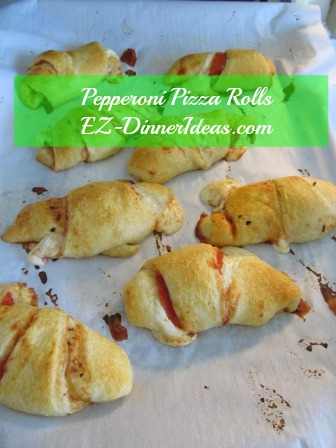 Let sit in room temperature for 5 minutes before serving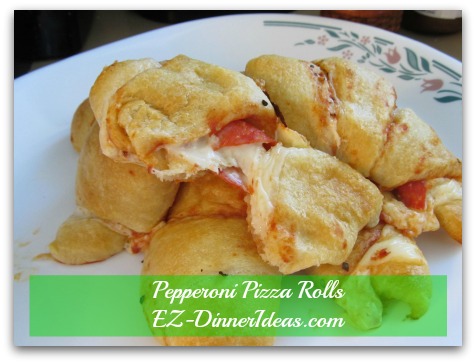 Ummm....Yummy
---

Recipe Ingredients and Tools

---

You May Also Be Interested In:

---
Home > Breakfast Recipes > Pepperoni Pizza Rolls