Slow Cooker Buffalo Meatballs
A Crowd Pleaser In A Dinner Party
Or An Easy Family Meal
This slow cooker Buffalo meatballs should be on your dinner party idea list.  It is very low maintenance, flavorful and filling.
Like the pineapple Kielbasa, you can turn this dish into a family dinner by adding pasta.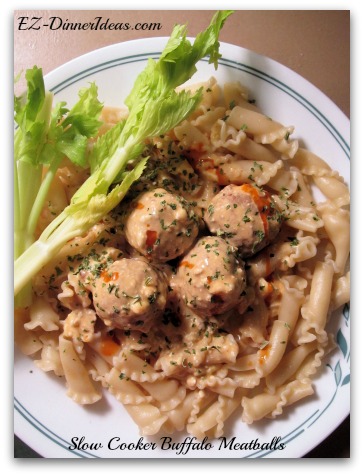 Prep Time: 5 Minutes   Cook Time: 3-6 Hours  Serving: 6-8
Tips For Slow Cooker Buffalo Meatballs


Here are some tips for you in this meatball recipe:
A pinch of sugar goes a long way.  A pinch is really a pinch.  A 1/8 teaspoon is the maximum that you are going to put no matter how much you are cooking in the pot.
You heard that a pinch of salt in baking makes everything blend together wonderfully.  So is a pinch of sugar.  When I started learning cooking, this was one of the tricks my mom has been emphasizing over and over to me, "Always add a pinch of sugar in a hot and spicy dish." 
Since then, I literally add it to almost every spicy dish even it is not hot.  I even add a pinch into my spaghetti sauce.  It takes the edge off.  But the most important of all, it does blend all the flavors together.

I can tell you what my husband said one time when I asked him to take care of the spaghetti sauce, "I forgot to add a bit of sugar in the sauce.  Man...it made a big
difference, huh?"  Without having an opportunity to compare it, you will never know.  So, give it a try next time.

You may love spicy food like me.  But in my family, we have people from 2 extremes.  Some can only take very, very mild heat.  Some can eat extremely hot food.

If that's the case, always use the minimum quantity of hot sauce in the buffalo meatballs.  (Always apply this rule in all hot dishes) 1/4 cup is a good start.  You may even need to cut it down into halves if needed.  You can always serve more hot sauce on the side for people love to have super hot flavor.

Not many people can take the strong blue cheese flavor either.  A great substitute of blue cheese is some sour-cream based blue cheese dressing.  Fold in 2 tablespoon or more before serving to give the dish additional flavor.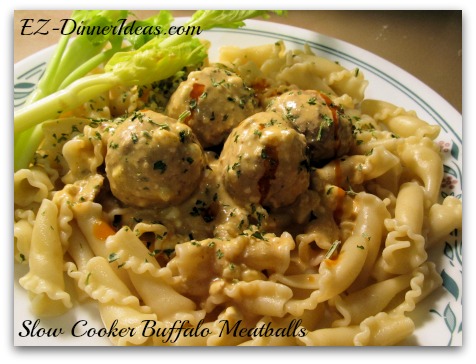 Ingredients
1 pound Frozen Turkey Meatballs (or any pre-cooked meatballs with the mildest seasoning)
1 (8ounces) pack Cream Cheese
2 cups Low Sodium Chicken Broth
1/4 cup Buffalo Wing Sauce and more served on the side
2 tablespoon Crumbled Blue Cheese (or any sour-cream based blue cheese dressing)
4-6 stalks Celery Ribs
1 pound Penne (or any short pasta)
Sprinkle of dried parsley (optional; for garnish)
A pinch of sugar
No-stick Cooking spray
1 teaspoon Salt
1 tablespoon Canola Oil
Salt and Pepper to taste

For Party Dinner

Generously coat the slow cooker insert with cooking spray
Add frozen meatballs, cream cheese, buffalo wing sauce and broth into a slow cooker; cook on high for 3 hours or low for 6 hours
Before serving, add a pinch of sugar, handful of blue cheese, salt and pepper to taste and add more buffalo wing sauce if needed.  And garnish it with parsley
At this point, you can serve and enjoy the meatballs, especially in dinner party, along with the celery ribs

For A Easy Family Meal

About 30 minutes before dinner is ready, bring a pot of water to a boil and add salt, canola oil and pasta
Quick stir and cook until al dente and drain
Add meatballs and buffalo cheese sauce on top with parsley for garnishing and serve celery ribs and more buffalo wing sauce on the side and enjoy
---
Serve This With: 

---

You May Also Be Interested In:

Return from Slow Cooker Buffalo Meatballs Recipe page to Slow Cooker Recipes page

Return to Easy Dinner Ideas Homepage