Dinner Party Ideas
Inspiration for Fun and Entertainment
Flexibility is key to great dinner party ideas.

Dinners with Family and Friends
In 2006, my husband's niece initiated to have a family dinner on a weekly basis.  It has been 10 years already.  Occasionally, we may need to cancel it.  Otherwise, we stick to our commitment.  We love and enjoy our weekly visit with each other.

In our circle, there are 3 families that are always stable and consistent with the schedule.  Each week, each family takes turn to host and serve dinner at their house.  So, I serve a dinner for 6-8 people every 2 weeks.

Dinner Party How To Plan
Be Prepared - Anything Could Happen
Throughout all these years, I learned that there are many scenarios could have happened before and on the day of dinner.

Here are just a few common examples:

Guests you didn't expect showing up for dinner
Guests no-show without notice or with short notice
Your guests or you are late (Believe me, being a host, I got out of work late several times throughout all these years.  My guests were waiting for me for an hour before I finally showed up.  Things happen.)
Be considerate and forgiving.  Don't let this little thing to bother or upset you.  Your guests could be sick or other emergencies that they couldn't make it.  That's why you need flexibility.

In other words, your dinner menu should easily shrink or double (maybe triple).  If the dinner got cancelled within a very short notice, the ingredients should be still ok to stay for another week.  It sounds difficult.  But if you have a few tips on hand, it is manageable.
Invitations
Always send out the invite to your guests to confirm the number of people.  Of course, like I said earlier, things could happen at the last minute.  Here are some suggestions of your invitation formats:


Facebook Event (preferably using the Group function to avoid inviting other people not belonging your group or any personal misunderstanding) - you can easily set the time, date, venue and even with the direction
EInvite - it has the similar function as the Facebook Event
Emails - I can tell you this.  I have friends and families using Facebook on an hourly basis, but can't figure out how to create an invite on Facebook.  So, something as simple as email reminder and other suggestions below would be perfect for this group of people.
Facebook messenger - This allows you to just limit the conversation among the group of people that you want to invite and chat with
Text message - works the same like the Facebook messenger
Flexible Dinner Party Recipes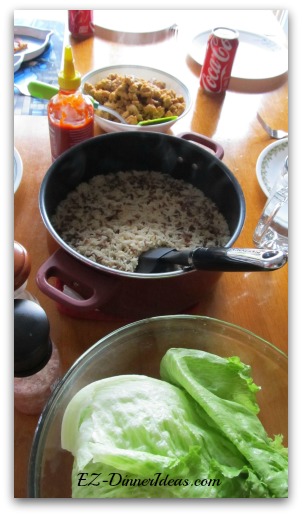 Dinner as simple as this takes 30 minutes to cook. If dinner party got cancelled or unexpected guests show up, you can easily adjust the quantity.
Dinner Cancelled

If the dinner party gets cancelled at the last minute, what should you do with the ingredients?  Here are the tips will make your life much easier:


Try your best to prepare the meal on the night of serving, such as some quick and easy dinner recipes that you can prepare it in 30 minutes
Food has never been frozen before that you can always put it in the freezer in case of cancellation.  Then, you can cook it later.  If it was frozen before, cook it as planned.  Shred the meat, discard the skin and bones if necessary.  Use meat in salad, sandwich or pair it with some vegetable dishes
Can you use some of the pantry staples for your dinner?  If so, this is the most ideal dinner party recipes.  You don't need to worry about anything.  Save all the ingredients and wait for the next dinner party when you host it again.

Apply one of those 3 tips on your dinner menu, you are good to go.  Here are some more tips for other recipe categories:


All Slow Cooker Recipes can store it in several containers as make ahead freezer meals.
Ground meat recipes - make patties and freeze them or just cook burger for dinner that night.
Pre-cooked rice recipes - make fried rice dishes
Rotisserie Chicken Recipes: you can discard the skin and bones of the chicken.  Save the shredded meat either for a salad, sandwich or some quick soup recipes. 
Seafood recipes - cook it and make taco or add it into the salad
More Guests Than Expected

We talked about if there is a last-minute cancellation of your dinner party.  What if you have more guests showing up? What do you do to bump up the volume to feed a bigger crowd? 
I assume that you always have some rice or pasta in your pantry.  Cook more for the side dish. 
In our family weekly dinner, we always throw in 2 frozen pizzas.  One stone kills several birds for us. We have picky eaters.  Pizzas are always welcomed.  Teenagers can consume a lot.  I mean a lot.  Even though I always cook more than enough, teenagers seem never get enough.  
Chicken nuggets are another great alternative.
More Themes For Dinner Party Ideas

Thank you very much for your visit.  Please check regularly for more update of this page.

Return from Dinner Party Ideas page to Easy Dinner Ideas Homepage